Публикация
ТЪРСИ СЕ: User Acquisition Growth Hacker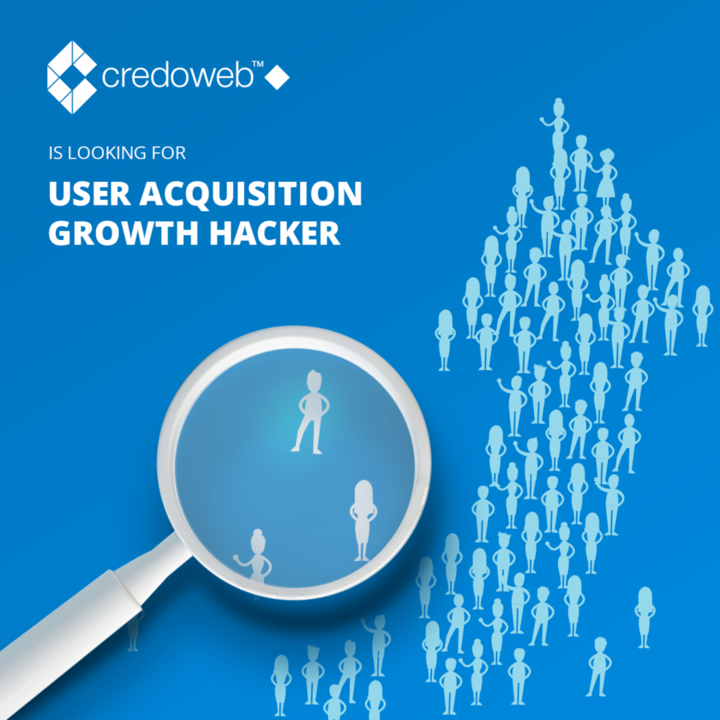 Who are we
CredoWeb is an ambitious company that originates in Bulgaria with the aim to connect the different stakeholders in healthcare – doctors, hospitals, patients and pharma facilitating better information flow and experience exchange in a professional online environment. CredoWeb is a market leader on the Bulgarian market with over 21 500 medical experts part of the community.
Following the success of our business model in Bulgaria we are expanding on other markets in Europe, India and Latin America. We are growing our international team and look for a creative and result-driven marketing person to join us.
The role of the Growth Hacker
As a Growth Hacker you will lead B2C and B2B global marketing strategy and marketing campaigns in order to support the objectives of the business in all markets CredoWeb operates.
In this role you will be responsible for growing our user community by increasing the databases of registered and active healthcare stakeholders in our platforms in territories in Europe, India and Latin America. Working closely with CredoWeb teams in all international markets, as well as UX team, Analytics, SEO and Product development to prepare different scenarios for acquisition of healthcare professionals and B2B customers in CredoWeb platforms.
You will also develop hypotheses and scenarios for user journeys and validate them via customers' acquisition and retention process, as well as run A/B tests that will help us better understand our audience. You will work closely with a range of stakeholders across the company, considering different markets' specifics and healthcare professionals' behavior.
You will be responsible for CredoWeb growth hacking strategy across the globe. Most activities will be online so you should have experience in digital marketing. You should have an interest and experience in healthcare stakeholders' acquisition and retention, and be data driven in your decision making and approach.
Main Duties And Responsibilities
In this role you will:
Be the voice of the customer (healthcare stakeholders), developing an in depth understanding of the way they interact with our platform and its modules
Plan and execute end-to-end digital campaigns globally - from creations, analysis, optimization and reporting across multiple platforms and channels (Google Ads, WhatsApp, Facebook Ads etc.) to reach new potential users and to increase user acquisitions
Act as the "business owner" for B2C and B2B marketing and be responsible for driving campaigns and promotions to achieve business objectives.
Craft compelling messages across all marketing channels (internal and external)
Evaluate results using relevant KPIs and feedback from users (registered and non-registered healthcare stakeholders)
Rapidly experiment and iterate to optimize conversion
Translate and effectively communicate CredoWeb services and features into benefits for target segments, in a clear, customized, and differentiated way
Analyze relevant campaign metrics and user flow metrics to identify opportunities.
Work with company stakeholders and teammates to define and run A/B tests that help us understand better our audience
Requirements:
2 -5 years of proven experience as a Digital Marketing Manager or a similar role
Experience leading or managing integrated marketing campaign in different markets and cultures
Experience working in a strong metrics-driven culture to measure the performance of the different tactics in driving business results
Experience working with and discussing marketing requirements to other stakeholders: Sales, Client Solutions, UX and design, Analytics, SEO and Product development
Creative person with analytical mind
Strong interpersonal communication skills, including a keen eye for detail
Very good command of the English language, knowledge of German or Spanish would be an advantage
BSc/BA in Business, Marketing, Communications or similar field
Person Specification
You must be execution focussed and results driven, easily converse with colleagues at all levels and in all territories of the organisation, actively engage in creative, design, copywriting and marketing discussions.
What we offer
Be part of a Bulgarian start-up with multinational experience and global ambitions
Be part of the development of a disruptive product and business model within the healthcare industry
Opportunities for career development in a growing international team
Attractive performance program
Competitive remuneration
Friendly and dynamic team in which proactive approach and ideas for improvement are always welcome.